Pacific Gate - New Bosa Developmet
Location
Pacific and Broadway in San Diego, CA 92101
Neighborhood
Marina District
Year Build
TBD
Number of Units
296
Stories
45
Parking
Secured
Pet Restrictions
TBD
FEATURES
The proposed development consists of a 45 story concrete residential tower with 296 units above three levels of underground parking. The 3 layers of gently curved glass tower rise up to 500 ft from Sea Level with each layer steps and slopes down to form an iconic skyline.

A 4 story podium lines on the south and west side of the tower, containing large commercial spaces on the ground level, and residential units and amenity spaces on the floors above. A stepping curved wall theme is consistently applied to the podium as a response to the architectural language of the tower.

The layered composition of sloped roof lines of the tower and the podium is a harmonious response to its predecessor across Broadway, the residential tower on Parcel 9, yet unique enough to hold its own character.

These 2 towers are designed to form a dramatic gateway to the downtown San Diego at the junction of Broadway and Pacific Highway and to greatly animate the waterfront skyline of San Diego.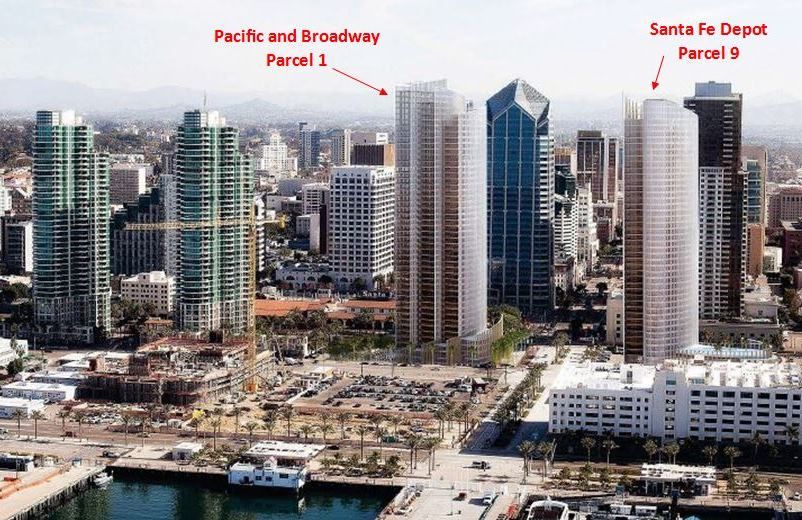 CONTACT US
ADDRESS
560 1st Avenue
San Diego, CA 92101
CONTACT NO.
Raye Scott:
(858) 229-5424


Francine Finn:

(858) 518-5288
CONNECT